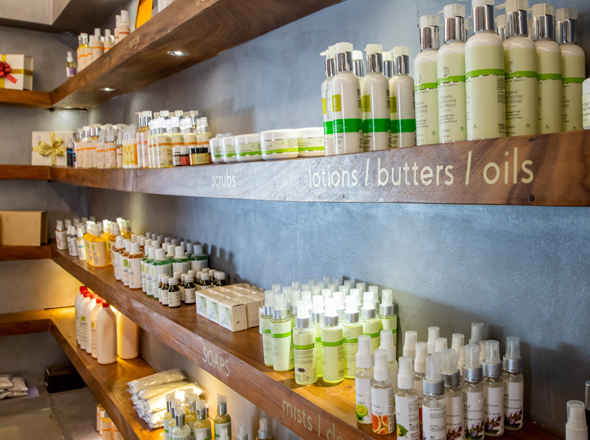 Aromatherapy For Wellbeing And Happiness
By Myanthi Pieris and Nishika Fonseka, Pix by Sanka Vidanagama
Walking up to the Kemara counter at the Keells Supermarket at Crescat Boulevard, we were somewhat apprehensive about what to expect. With the word 'Aromatherapy' being thrown around increasingly these days, we were fairly familiar with the concept but still not entirely sure what all the hype was about. As we gazed at the little bottles on the shelves, our curiosity was aroused by words like 'Siberian Ginseng', 'Chamomile' and 'Ylang Ylang'.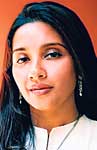 Kishani
Kemara, a product line based on aromatherapy, was launched on Saturday, December 13, at the Keells Supermarket located at Crescat Boulevard. Its founder Kishani Gunewardena also runs a spa by the same name, tucked away in a peaceful little corner in Bambalapitiya, down Hampden Lane. The idea to launch this line of products was born out of the glowing response she received from the customers who visited her spa. An accountant by profession, Kishani switched to aromatherapy, completingd organic cosmetic course in the UK and has a Diploma in Aromatherapy from Shirley Price Ltd., Aromatherapy England, an international college with affiliations around the world.
"We used to make customized blends on request for our customers and the response we received was incredible" she said, adding that it was this that prompted her decision to 'go public' with the products.
But has the average shopper embraced it as wholeheartedly? "Aromatherapy is still relatively new in Sri Lanka and most people are not entirely familiar with it," Kishani explained. "The more we talk to people and the more we tell them about our products, the more they trust us and begin to really understand it." She went on to say that 'word of mouth' was their preferred mode of publicity as customers who recommend it to others would be those who had actually benefited from the products and seen results.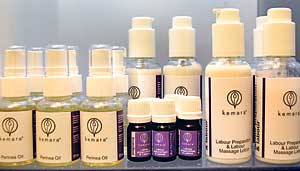 Kemara is available under six categories – Face, Body, Hair, Wellness, Pregnancy and Kids. The most fascinating of these is perhaps the Wellness range which offers a line of products appropriately titled 'Aromas and Emotions'. This line promises not only 'Happiness' in a bottle but 'Endurance', 'Tranquility' and 'Relaxation' as well. Other products in demand are the Body Lotions and Body Scrubs ranging from the 'Dead Sea Salt Scrub' to the 'Green Tea Scrub'. The Hair range too has its own best-seller in a natural remedy for hair loss made out of plant algae.
Organic products available for pregnancy are relatively new in the international market as well and the products in the Kemara Pregnancy range deal with easing stress and relieving back aches and other common ailments. The product range for kids, offers, among other things, a 100% natural mosquito repellent, Eucalyptus and Lavender for a cold and 'Tea Tree Gel' – a natural antiseptic for cuts and scrapes.
Using a variety of ingredients from different parts of the world like Ylang Ylang from Madagascar, frankincense from Somalia and jasmine from the Nilgiris mountains in India to name a few, Kemara products are 100% natural and wherever possible organic. "We also include botanical CO2 extracts, which is considered to be the 'latest ingredient', in our products," said Kishani, going on to say that ingredients from Sri Lanka too are used as far as possible, the most common of these being cinnamon oil, lemon grass and cloves.
With 154 products on offer, Kemara has been dubbed 'The Sri Lankan Body Shop' by satisfied customers. Encouraging even sceptics to try it out, Kishani remains optimistic that with the stresses and pressures of today's hectic lifestyle, Kemara's 'natural' outlook may be just the thing everyone requires.
Sunday Times 2009
http://www.sundaytimes.lk/090118/Plus/sundaytimesplus_18.html